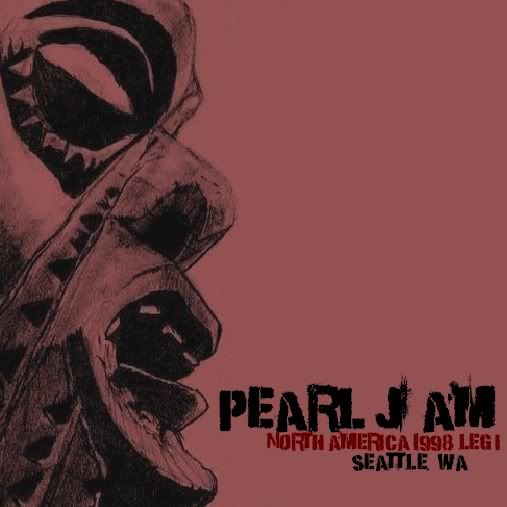 Show Info:
1998 Yield Tour Show
Set Length:
111min
Attendance:
25,000
Support Acts:
The Wallflowers, Zeke
Main Set:
Corduroy, Whipping, Hail Hail, Brain Of J, Dissident, Even Flow, Jeremy, Given to Fly, Leatherman, In Hiding, State of Love and Trust, Daughter/(Noise of Carpet), MFC, Better Man, Rearviewmirror, Black, Alive
Encore:
Do the Evolution, Wishlist, I Got Shit, Footsteps, Spin the Black Circle, Go
Encore 2:
Baba O'Riley, Yellow Ledbetter
Show Notes:
PJ provides an excellently organized and festive atmosphere for the first of their hometown gigs with people walking the crowd handing out free popsicles, courtesy of the band. However, the crowd is extremely sedate, which continues to frustrate Ed until after 'Leatherman,' when he snaps, "You're the sleepiest goddamn crowd this side of Portland." Mike's solos are excellent, and Matt once again excels, prompting Ed to tell a funny story about how the band all lives in the same house, and when Jack "couldn't make it," they "went out in the backyard and found Matt sitting there - Matt is everything." He also refers to the fact that these shows are benefits, commenting "Fuck [former Seattle Mayor] Norm Rice ... Jeff Ament's the governor for today, and 'DTE' is introduced with a sarcastic story about how Ed "found God" on the road - "that's big news, right?" Mike throws in the intro riff to Hendrix's 'Machine Gun' at the end of 'Yellow Ledbetter."
Download Links (FLAC):
1.
http://www.megaupload.com/?d=SF203UKM
2.
http://www.megaupload.com/?d=612DK3B4
3.
http://www.megaupload.com/?d=C7SUG884
4.
http://www.megaupload.com/?d=KCOM49X4
Download Link (mp3):
http://www.megaupload.com/?d=U4C4X1AO
Download Link (Artwork):
http://www.megaupload.com/?d=JNAQ19QM
Show Info:
Source: Schoeps CCM4s -> Aerco -> SBM-1 -> Sony PCM-M1
Lineage: DAT(c) 44khz -> FLAC
Transfer: DA-20 -> Monster coax -> DiO 2496 -> CEP 2.1 -> CDWave -> FLAC