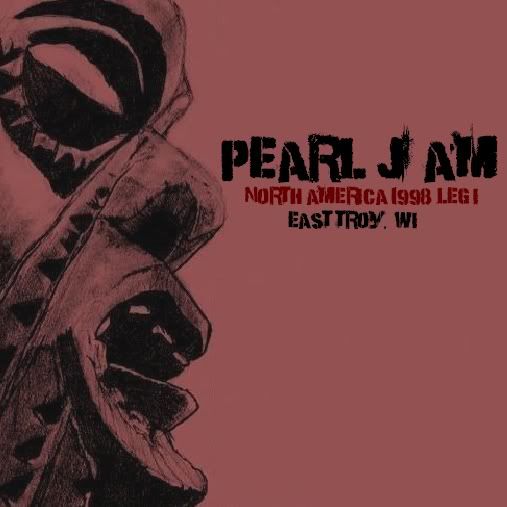 Show Info:
1998 Yield Tour Show
Set Length:
115min
Attendance:
35,000
Support Act:
Frank Black
Main Set:
Interstellar Overdrive, Corduroy, Hail Hail, Brain of J, Last Exit, Tremor Christ, Given to Fly, Jeremy, Faithfull, Nothingman, Improv, MFC, Habit, Off He Goes, Even Flow, Once, All Those Yesterdays, Go, Immortality
Encore:
Do the Evolution, Leatherman, Betterman/(Rearviewmirror), Wishlist, Alive, Smile
Show Notes:
The 'Interstellar Overdrive' instrumental intro is performed in the same fashion as the ARO.space show. Mike smashes his guitar after 'Brain of J.' Ed performs the "back and forth" dance during 'Last Exit.' 'Faithfull' is introduced as "a song about being careful with your trust." The improv after 'Nothingman' is mostly Ed with Matt and Jeff playing along. Tonight's 'Habit' line is "speaking as someone who's never worn a piece of orange styrofoam on his head." (Ed goes on to explain that the cheesehead comment wasn't an insult and how he has a cheesehead hat at home and how he finds it "to be quite comfortable actually. Makes me look cool and I get chicks.") 'Better Man' features two tags, including 2 lines from 'RVM' ("saw things ... clearer, clearer"). Ed chats about how Dennis from The Frogs wrote a page in Ed's journal and it became 'Smile,' leading to that song and a spotlight is shined on Dennis, who is side stage. Wonderful setlist and performance.
Download Links (FLAC):
1.
http://www.megaupload.com/?d=77OWZPP2
2.
http://www.megaupload.com/?d=X6DO81L7
3.
http://www.megaupload.com/?d=NWV30765
4.
http://www.megaupload.com/?d=MPSUFR6B
Download Link (mp3):

http://www.megaupload.com/?d=TMV8GLHR
Download Link (Artwork):
http://www.megaupload.com/?d=FN3CPQVA
Source Info:
2-source mix: [AKG 393b's > Crown PH-1 > M1 (sec. 212, row 14) > dat-m > dEQ > cdr] + [Sonic Studios (DSM-6) > Sony TCD-D7 (lawn stacks) > dat > cdr] > dEQ > shn > FLAC