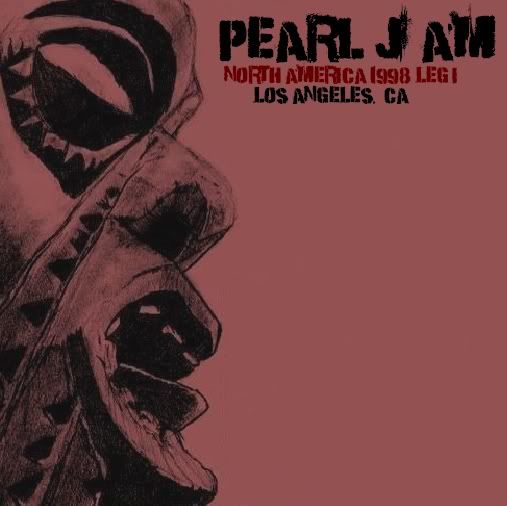 Show Info:
1998 Yield Tour Show
Set Length:
109min
Attendance:
15,500
Support Acts:
X and Tenacious D
Main Set:
Release, Last Exit, Brain of J, Hail Hail, Red Mosquito, Given to Fly, Corduroy, I Got Shit, Off He Goes, Even Flow, Faithfull, Daughter/ (The KKK Took My Baby Away)/(I Believe In Miracles), Nothingman, Jeremy, Habit, Better Man, Alive
Encore:
Do the Evolution, Rearviewmirror, Wishlist, Leaving Here
Encore 2:
The KKK Took My Baby Away (w/Johnny Ramone)
Show Notes:
Ed screws up the beginning of 'Habit,' then takes credit for it by saying, "My bad. Matt, say hello to Matt Cameron, was doing a beautiful job and I fucked it up." Eddie mentions smoking a cigarette in a public building in California, that he normally wouldn't, but he was going to do it because he could. He thanks the members of X by name, individually. The "speaking as" break in 'Habit' has a different twist: Instead of saying "speaking as," Ed starts playing guitar, a dark, slow, droning riff reminiscent of 'This Boy.' Ed strums on this riff for a few seconds and then Matt begins drumming and Ed sings a bit. They jam on this dark little riff for 20 seconds or so and then silence. A dramatic pause and BAM, back into 'Habit.' Breathtaking! Ed changes the lyric in 'DTE' to "I'm the first mammal to wet my pants." Before Wishlist, the band gives a shout out to Tenacious D, and Ed changes the lyric in Wishlist, to "I wish I was as fortunate, as fortunate as KG," referring to one of the guys from Tenacious D. 'Leaving Here' is introduced as one "... for all the ladies ... no, actually it's for the guys ... treat 'em right." A very fun show, with Johnny Ramone playing guitar with Mike on the final encore, Ed singing and Stone playing the tambourine with a big, goofy grin on his face. A celebrity studded crowd: Jim Carey spotted side-stage and Gene Simmons (of Kiss) sat behind the soundboard! 'Black,' 'Go' and 'Immortality' are on the setlist, but not played.
Download Links (FLAC):
1.
http://www.megaupload.com/?d=7PYNY520
2.
http://www.megaupload.com/?d=0ZGH2E8Z
3.
http://www.megaupload.com/?d=A4MZYF6J
4.
http://www.megaupload.com/?d=FMERYNU5
Download Link (mp3):
http://www.megaupload.com/?d=N9HK7U1B
Download Link (Artwork):
http://www.megaupload.com/?d=3D4RXP7I
Source Info:
Source: [ALD->DAT] + [AKG 460b+ck63->Beyer MV-100->D8(6th row, left)->DAT(3)48khz] => FLAC
Transfer (AKG): DA-20 -> Monster coax -> DiO 2496 -> SF 6.0