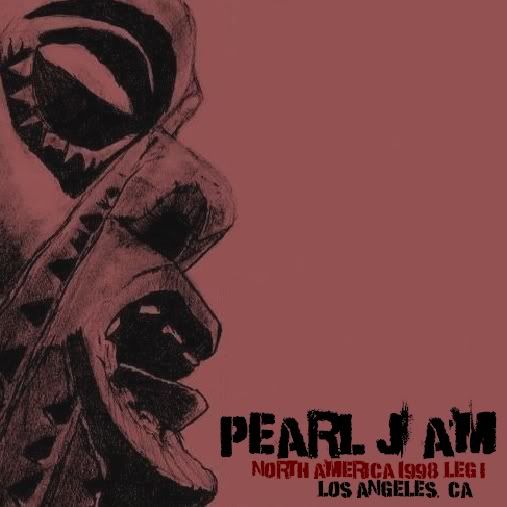 Show Info:
1998 Yield Tour Show
Set Length:
107min
Attendance:
15,500
Support Act:
X and Tenacious D
Main Set:
Sometimes, Corduroy, Hail Hail, Brain of J, In Hiding, Even Flow, Given to Fly, MFC, Not for You, Wishlist, Jeremy, Do the Evolution, Dissident, Present Tense, Spin the Black Circle, Rearviewmirror, Go
Encore:
Elderly Woman, Better Man/(Save It For Later), Daughter/(I Must Not Think Bad Thoughts), Alive
Encore 2:
Baba O'Riley
Show Notes:
The opening act, Tenacious D, are two guys with acoustic guitars who are VERY funny. Ed introduces them, saying something like, "Iron Maiden and Black Sabbath will not be here tonight as scheduled. Instead, their bastard child, Tenacious D!" ;) Mr. McCready is wearing a dress and fishnet stockings. The band seems rested from Las Vegas and in a good mood. 'Wishlist' last lines are modified to, "I wish I got to play in a band, and open up for X. I wish, I wish, I could tell you, they'll be out here next." Mike gets tackled by Ed at the end of 'STBC,' and he spins him around by his ankles. Ed mentions that Mike Watt gave him a book before 'Elderly Woman,' and quotes a line from Willy Wonka, "Do you know what happened to the boy whose wishes all came true? He lived happily ever after." A great moment during 'Elderly Woman:' at the song's climax ... "I just want to scream HELLO!!! My God it's been so long. Never dreamed you'd return, but now here you are [looking out to the crowd, bright white lights on] and here I am." Ed comments that they are lucky to play the Forum, that the crowd is lucky to play in the Forum. Also that it not the Great Western Forum to them, but "The Fabulous Forum." The 'Daughter' tag is once again an X song. 'Alive' includes a tease of the Black Sabbath song 'Heaven and Hell' in the ending jam and the behind the head guitar work. An incredible 'Baba O'Riley,' with all of them simply going off. Ed spills Heineken all across the stage and during the final notes, he gets a running start and slides on his knees with his guitar across the stage (much as in the movie The Kids are Alright where Townshend does this during 'Won't Get Fooled Again'). Then Ed breaks his red Gibson SG. A hard-driving show.
Download Links (FLAC):
1.
http://www.megaupload.com/?d=134CL51Y
2.
http://www.megaupload.com/?d=YS5OLJHW
3.
http://www.megaupload.com/?d=U0HNSCA1
4.
http://www.megaupload.com/?d=JM4GSQTQ
Download Link (mp3):
http://www.megaupload.com/?d=460Q717T
Download Link (Artwork):
http://www.megaupload.com/?d=I39LJND6
Source Info:
Source: [ALD->DAT] + [AKG 460b+ck63->Beyer MV-100->D8->DAT(c)48khz] -> FLAC
Transfer (AKG): DA-20 -> Monster coax -> DiO 2496 -> CEP 2.1 -> CDWave -> FLAC