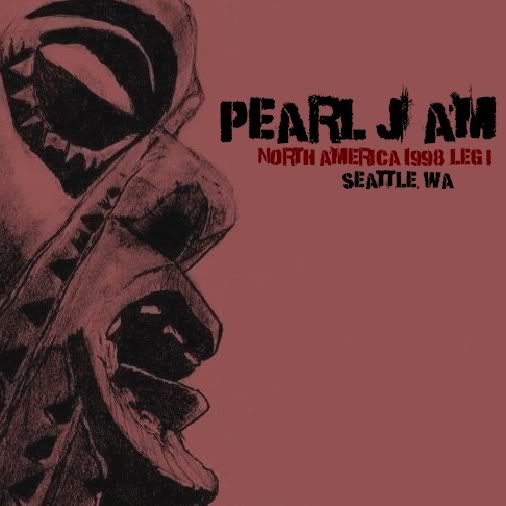 Show Notes:
1998 Yield Tour Show
Set Length:
75min
Support Act:
Shawn Smith
Main Set:
Interstellar Overdrive, Corduroy, Do The Evolution, Brain of J, Last Exit, Given to Fly, In Hiding, Off He Goes, MFC, jam/Habit, Wishlist, Faithfull, Hail Hail, Mankind, Leatherman, Leaving Here
Encore:
Last Kiss
Show Notes:
PJ makes their first full public appearance with Matt Cameron at this surprise show at the club formerly known as Moe's (site of the Mirror Ball release party and private Neil Jam show in 1995). The band is visibly nervous until 'Habit,' at which point they totally kick in, laughing amongst themselves, making jokes. 'MFC' and 'Habit' are total standouts, as well as Stone's tambourine playing during 'Leatherman' and Eddie's hilarious backing vocals during 'Mankind.' The band leaves the stage and then Matt, Jeff and Ed return, Ed tells us a little story, displaying a Michael Jordan bong and a single. He tells us he bought the single for 99 cents the day before and stayed up all night listening to, 'Last Kiss,' a 50s gothic romance that was re-released and popular during the early 70s, and then proceeds to serenade us with a wonderful rendition of that song. Amazing show!
Download Links (FLAC):
1.
http://www.megaupload.com/?d=UNPHZVHZ
2.
http://www.megaupload.com/?d=KQNBUYQU
3.
http://www.megaupload.com/?d=DKJIOEKD
Download Link (mp3):
http://www.megaupload.com/?d=188XERXZ
Download Link (Artwork):
http://www.megaupload.com/?d=YG53CW8K
Source Info:
Source: BIC mic -> Panasonic walkman
Generation: ANA(1) -> DAT-M 48khz -> FLAC
Transfer: DA-20 -> Monster coax -> DiO 2496 -> Soundforge 6.0 (resample to 44.1) -> CDWave -> FLAC frontend -> FLAC