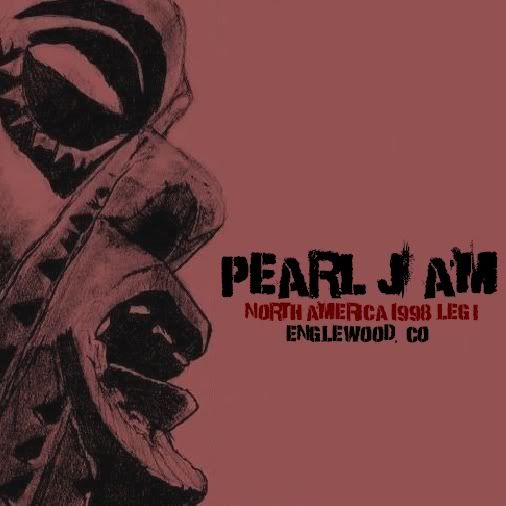 Show Info:
1998 Yield Tour Show
Set Length:
110min
Support Act:
Frank Black
Main Set:
Long Road, Corduroy, Hail Hail, Brain of J, Dissident, Given To Fly, MFC, Habit, In Hiding, Even Flow, Daughter/(Monkey Gone to Heaven), Pilate, Off He Goes, I Got Shit, Do the Evolution, Alive, Black
Encore:
Wishlist, Rearviewmirror, Betterman, Leaving Here
Encore 2:
I Am a Patriot (Ed solo)
Show Notes:
A bad sound system makes Ed's vocals somewhat hard to hear, but the band turns in a great performance. Ed comments on his altitude sickness the last time the band played Denver before 'Given to Fly': "We're a mile high ... and I might add that there is nothing wrong with being a little bit higher too!" At his vocal part in the middle of 'Habit,' Ed encourages the crowd to enjoy life, "... life has many detours, take them, enjoy them, but just don't get stuck in the mud ..." The 'Daughter' tag is a Pixies cover, 'Monkey Gone to Heaven' (in honor of Frank Black opening): "If man is 5, then the devil is 6, then God is 7, this monkey's gone to heaven." Jeff seems to enjoy 'Pilate,' smiling throughout. Ed leads in to 'Alive': Usually we just go into this song, but tonight I just want to mention something. ... because there have been some difficulties in my life, with parental figures and a father in particular, and apparently I'm not terribly unique, because a lot of people like relate to these things, I thought tonight we'd sing this song in tribute to the uh, for reasons, there's reasons which I'm not going to tell you, but hopefully this applies in your life. There are definitely good fathers out there for sure like really good fathers so uh were kind of celebrating Fathers Day a few days late." He changes a line to say "... what you thought was your father, was really a great guy." At the end of 'Black,' Ed adds "we can be much more than this." Before 'Wishlist,' Ed mentions something about how the last time they played this venue was in 1992 with Soundgarden (Lollapalooza). Ed's solo during 'Wishlist' had technical problems, and Jeff is hit in the eye by something thrown by a member of the audience (we won't say fan) during 'RVM.' At the end of 'Better Man,' Ed tells the audience that he understands that everyone got charged an extra 50 cents for parking, and "that's wrong, that's just wrong" and comments that the band is donating $8,500 to Gateway Battered Women's Shelter in Denver. After 'Leaving Here,' the band has pretty much left the stage for good, but Ed returns with a guitar, noting some fans near the front with a cardboard sign spray painted "Patriot Please." Quoting the Rolling Stones (somewhat), he says, "You can't always get what you want, but if you try sometimes you just might find a sympathetic singer who gives a fuck." He says he's a sucker and that an artist who cares just might do it, he doesn't know if he can remember the words, but he'd try, and goes into a FANTASTIC version of 'Patriot'.
Download Links (FLAC):
1.
http://www.megaupload.com/?d=5YV397UB
2.
http://www.megaupload.com/?d=Z53NVCC8
3.
http://www.megaupload.com/?d=GF7YEH1K
4.
http://www.megaupload.com/?d=R47HMDXO
5.
http://www.megaupload.com/?d=QJQ3NBNP
Download Links (mp3):
1.
http://www.megaupload.com/?d=2ZVD1ZAI
2.
http://www.megaupload.com/?d=1RI9UUND
Download Link (Artwork):
http://www.megaupload.com/?d=4WNHRKYA
Source Info:
2 source mix: [Schoeps MK5(card) -> Rmod -> SBM-1 -> Sony TCD-D7 -> DAT] + [Nakamichi CM700 -> Sony TCD-D8 -> DAT] => mixed via Pro-Tools => DAT(c)
Lineage: DAT(c) 44khz -> FLAC
Transfer: DA-20 -> Monster coax -> DiO 2496 -> CEP 2.1 -> CDWave -> FLAC